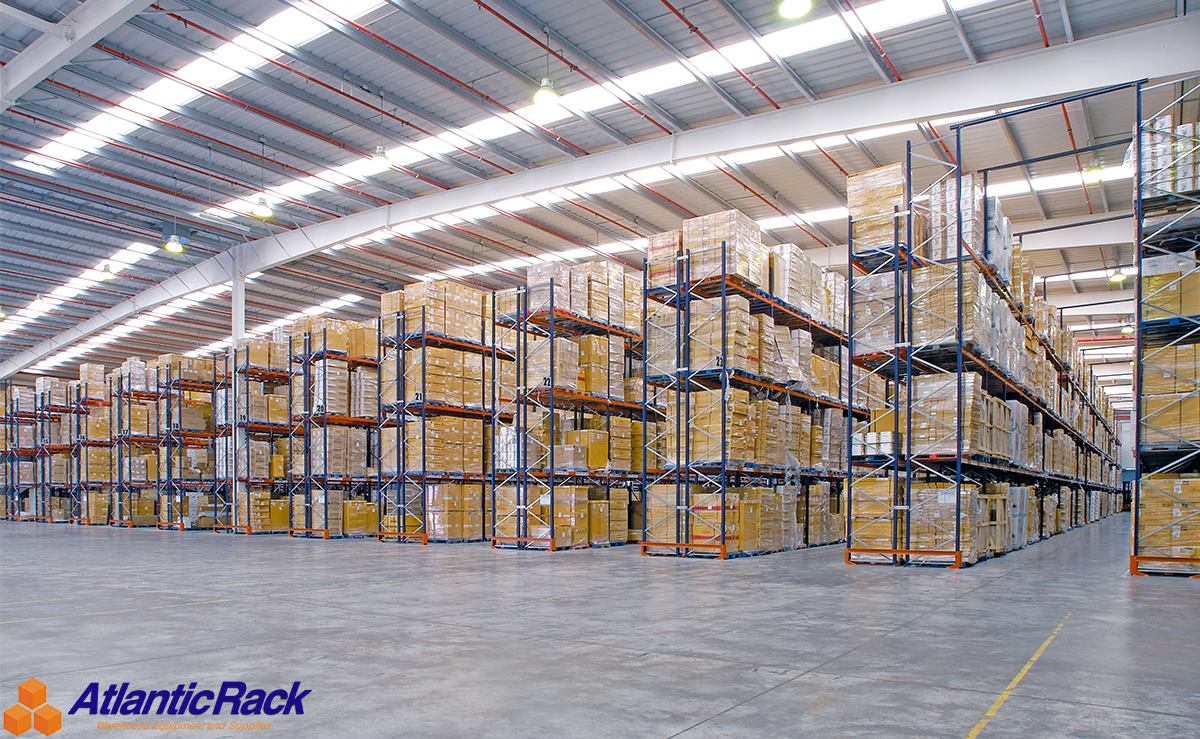 When a person goes into a warehouse, it seems that the materials stored at the metal racks or better called "Pallet Racks" have always been in place. There is a science in the design and layout of pallet racks on a warehouse, there are different factors that have to be considered. People look at buying pallet racks as a complicated process that is time consuming and expensive, but in the contrary is a very simple process if you know what type of materials you are storing, the space you count with and the purpose the racks will have in your warehouse. For example, one must determine whether storage density is more important than easy access. A person can either figure out what they want beforehand or browse through the selection available on Atlantic Rack to provide a better idea of how pallet racking fits in the warehouse.
The Purpose of Pallet Racks
Before going further on how to buy pallet racks we have to understand what is the purpose of buying them. Pallet Racks are design to store Racks also known as "skids" which hold products. Pallet Racks are usually formed by steel beams and uprights and go several stories high depending of the height of the warehouse. Products are stored in a way that can be found, organized and picked up efficiently. Pallet racks are designed in a way that racks can be easily pick up by forklift or pallet jack.
Pallet Rack Components
There are generally two types of pallet racks; roll formed and structured. Roll formed pallet racking is the highest selling type of pallet racking in the material handling industry, is constructed in tear drop formed for easy installation. Pallets rest on horizontal load beams that are held up by mounting clips. In structural pallet rack systems, horizontal load beams are attached to uprights with bolts to provide more weight capacity. Atlantic Rack offers both roll formed and structural systems, we always recommend roll formed due to it's easy installation. Here is a list of the components of a pallet rack:
Upright: Vertical beams that form the walls of the pallet rack; holes or slots are designed to interface with the load beam.
Beams: Horizontal beams that form the shelves of the pallet rack.
Pallet Supports: Situated between the load beams to support pallets.
Wire Deck: Safety measure to prevent pallets or products on pallets from falling through the rack structure. Used for storing smaller products like boxes.
Footplates: Also known as base-plates they are located at the base of columns and serve as anchors providing more stability for the rack.
Shims: Are used when the uprights are going to be located on floors that might be uneven.
Row spacers: Are in most cases used when bays (uprights) are arranged in back-to-back rows.
Wall ties: May be used for further support if the uprights are arranged in a row along a wall.
Column protectors: Also known as post protectors, are protective shields that can be installed around the base of an upright to minimize damage in areas where forklifts might hit the upright.
Guard rails: Are installed to increase protection where forklifts might hit the upright.
Not every pallet rack has all components found in the above list, but the first two are the standard for any pallet racking system.
Pallet racks are composed by 2 uprights and a minimum of 4 beams (2 beam levels), for the first bay.
For Add-on bays select one more upright (same height) and at least 4  additional beams.
Pallet Racks Capacity
One of the most important factors in buying pallet racking is the maximum capacity the pallet rack will be able to support. Pallet Racking manufacturers offer hundreds of different capacities, in order to pick one that fits your storage needs we have to look at what type materials one handles. If you handle different type of products always go for the one that weights the most, in safety standards is better that capacity is over than below required, because this could cause a pallet racking system to collapse. Don't go over to much on the capacity you need, this would cause one to overspend in a pallet racking system that greatly exceeds your true needs. The capacity of a pallet racking system depends on the beam spacing, height and beam dimension. For example, the higher the space between beam levels the system will have less capacity. Our team of experts will help you choose a system that fits your capacity needs that's why is important that one knows the maximum capacity you will handle.
Warehouse space
The amount of space that you are planning to use pallet racking is essential on deciding how many rack systems you will need and what height. According to the available space  our team will design and provide layout options. Here are a few examples of layouts:
Single Deep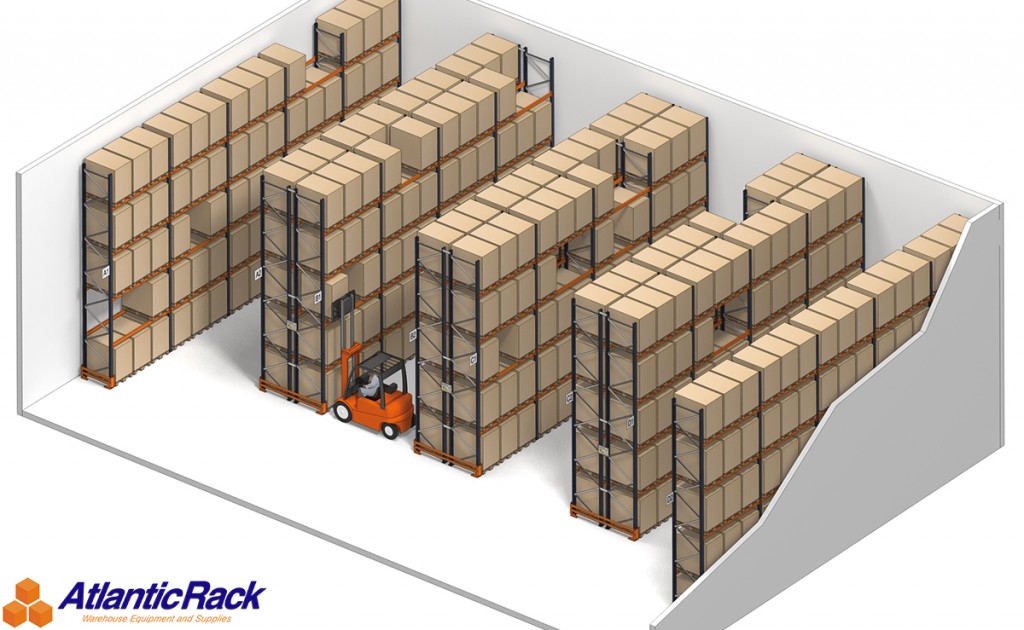 Double Deep: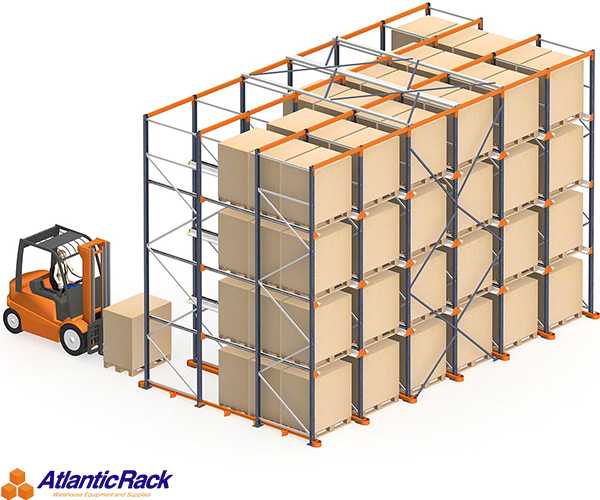 Contact us if  for a free quote with a professional layout, our experts will visit and take measurements of you warehouse.
In Conclusion
Pallet Racking systems are the skeleton of an industrial warehouse. By providing vertical storage it optimizes the storage space in your warehouse. The decision of buying pallet racking systems must be planned out carefully to ensure maximum use of space and safety to the employees within the warehouse and to the products on the pallets. Safety is particularly important in warehouse environments and there are a number of safety options, including wire decking, wall ties, and guard rails.
The components of Atlantic Rack systems can be purchased separately. This guide is provided so that our audience feels confident in the moment of making the decision of buying pallet racking. Atlantic Rack expert team is ready to answer any question in the material handling industry if you have any questions or concerns don't hesitate on contacting us right away.