Warehouse Safety and Rack Protection Equipment
Safety first! should be a golden rule inside all warehouses. Whether your storage facility is big or small, at Atlantic Rack we carry the most reliable safety and protection equipment for your facility. Adding safety equipment to your operations may avoid costly downtime, prevent collision damage to your equipment, increase efficiency and add productivity to your operations.
Atlantic Rack carries safety and rack protection equipment from high-quality manufacturers such as: Handle-it, Cogan, Red Steel and more! All our warehouse safety and rack protection equipment products are designed, tested and rated to withstand the toughest challenges of warehouse continuous operations.
Prevent costly accidents, protect your racks investment and safeguard your facility with our warehouse safety and protection equipment!
Guard Rails
Safety guard rails reduce the risk of accidents and injury in your warehouse. Tested to withstand 10,000 lbs at 4 mph guard rails are an essential safety component within your facility. Painted powder-coated safety yellow for high visibility, guard rails are used to separate warehouse areas, office walkways, protect equipment, racks, merchandise or in-plant offices.
Available in different lengths, easy to install and wedged anchored to floor for maximum protection!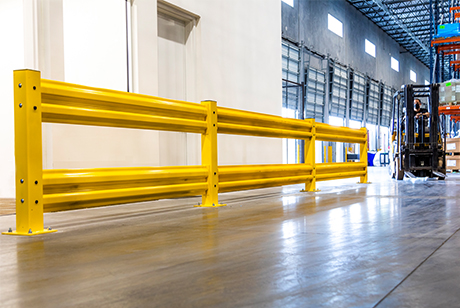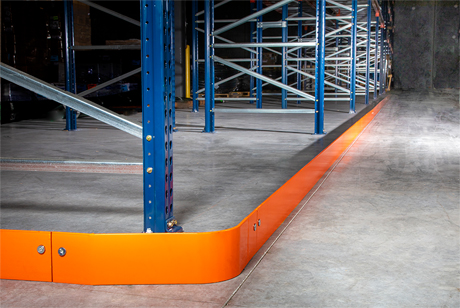 Forklift Guide Rails
This system improves the safety of your operations keeping vehicles on track when in your warehouse aisles, allowing higher speeds and maximizing work efficiency. Using guide rails reduces accidents, protecting the integrity of your racks. Guide Rail Systems work in perfect harmony with Selective & Cantilever Racks.
Available in two sizes (9.5ft and 20ft) long with incorporated gussets to add strength, heavy-duty entry guide curves, anchors every 24″, easy to assembly and replace.
End-of-Aisle
End-of-aisle rack protectors safeguards the bottom of the upright where most damage occurs. This design will protect the entire depth of the frame from forklift impact and is perfect for intersecting aisles or the end of each pallet rack aisle where forklift traffic is heaviest. Wrap-around design protects the pallet rack uprights bottom completely.
Heavy duty 5/16″ thick steel construction. Available in right, left or double-end design. Safety yellow coated for max visibility.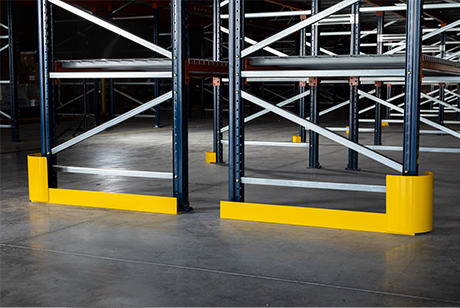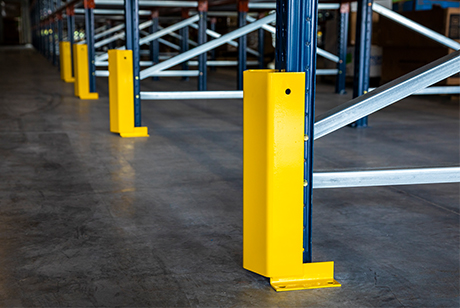 Post Protectors
Anchored post protectors are a cost-effective solution to protect your pallet rack uprights and prevent damages caused by vehicle impact. Wrap around design protects the front and sides of your pallet rack columns to avoid costly accidents.
Heavy-duty steel construction and anchored to floor for max protection.
Bullnose Protectors
90% of forklift impacts happen in the bottom 4 inches of the pallet rack uprights. Bullnose rack protectors are designed to protect the base of your racks, preventing costly accidents. Also called V-nose protectors, this product must be anchored to floor adding extra strength and stability to your racks.
Available in safety yellow for max visibility or galvanized coating for harsh environments applications such as coolers, freezers or outdoors.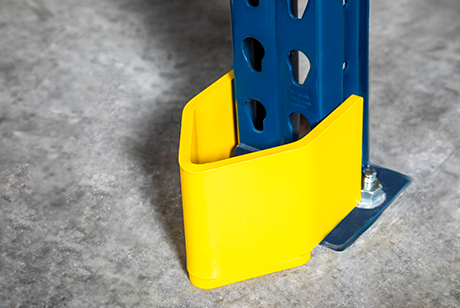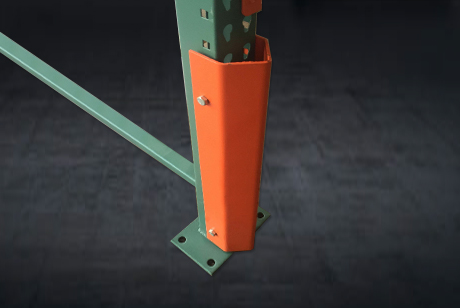 Bolt-On Post Protectors
Bolt-on post protectors fit into the rack's upright holes and can be installed at any height you need with no anchoring required. This rack protection solution will reinforce your uprights by adding more steel, increasing the thickness and rigidity of your racks!
Available in 12″ or 18″ inches, powder coated paint for max visibility or hot-dip galvanized coating for harsh environments.
Bollards
Bollards are designed to protect building corners, doorways, rack ends, machinery of wherever else you need protection from warehouse traffic. Protect various areas of your warehouse from vehicle collision with our heavy duty steel bollards. Surface mounted and easy-to-install, bollards are designed to withstand full impact!
Available in two diameters 4 1/2″ or 6″, anchored to ground, safety yellow for max visibility.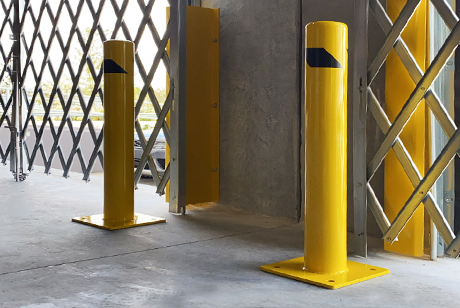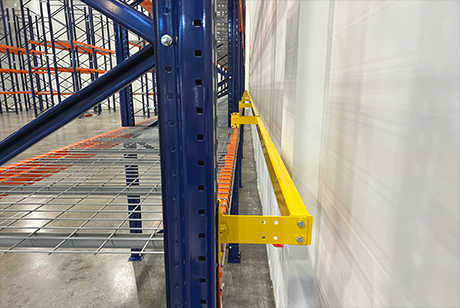 Pallet Stoppers
Prevent pallets from being accidentally pushed off the back of a rack or pushed too far in causing damage to walls or other pallets. Pallet stops work as a brake, so that forklift operators know where to stop when placing pallets in the racks. 
Also know as "Stop Beams", this solution maintains the required flue space between your rows of racks allowing ventilation and fire suppression. Often pallet stops are required by insurance companies and fire codes if you have back-to-back pallet racking.
Forklift impact accidents are more common than you think… prevent costly accidents!