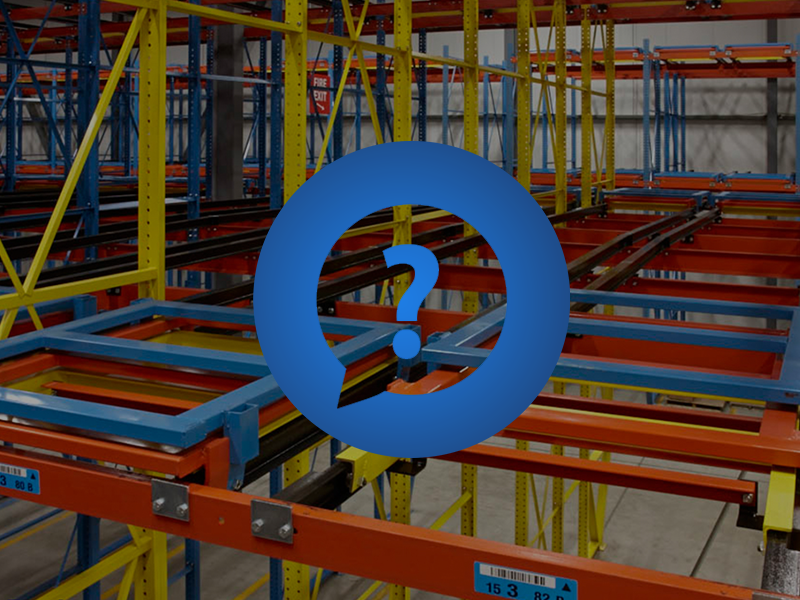 The Right Time To Use a Push Back Pallet System
A push back pallet system saves productivity time, maximizes storage space and reduces rack damage due to its roller based shelving system.  The push back system contains two inclined rails and a set of carts that nest along the rails. When an operator loads a second pallet in the location, it pushes the first pallet back, and so forth.  When the lane is full, the last pallet rests on the rails themselves.
When unloading, the first pallet is removed, and the others slide down in place using the force of gravity. Because the forklift never enters the rack, there is little if any damage to the racking system from incidental contact. Because the load comes to the picking place instead of the forklift to the load, time is saved in loading and unloading of same product or SKUs.  The lanes can be as long or as tall as needed to take advantage of all available space in the warehouse and still be safe.
Advantages
Using the push back pallet system offers many advantages, especially in warehouses with quick turnover and significant product in just a few SKUs. Such advantages include:
Storage of more SKUs
Labor savings since material handling equipment drivers do not have to move blocking pallets
Fast loading and unloading
LIFO by default but can be configured for FIFO
Low maintenance, sealed bearings, and coated wheels for easy movement along the rails
Best Uses
Push back pallet systems work in warehouses for various industries including manufacturing, automotive, pharmaceuticals, food distribution, and third party logistic facilities among others. Any warehouse wishing to enhance storing capacity is a candidate, especially if they have similar characteristics.
Stock Rotation. Stock is rotated more quickly with a push back pallet system. Lanes can be identified as "First In" so that those can also be first out. By giving each lane a designation, multiple forklift operators can still go to the right area for loading trucks or filling orders.
Occupancy. One of the downfalls of a traditional pallet rack system is the empty space that occurs when holding space for incoming product. The push back system gives every rack a "full" look with product immediately accessible instead of having to cross empty shelf space to access remaining product.
Honeycombing. While the push back pallet system appears to promote honeycombing, instead it reduces it by leaving space for necessary product while still keeping current product accessible. And, it is designed with easy location assignment so that even if an area is full, the backup area is easily determined and reached.
Features and Benefits
The push back pallet rack system is nearly impossible to damage, given its tough construction and easy of access to products and pallets. It accommodates both heavy and light loads, eliminating the need to re-profile space for varying weights. The wheels are coated and roll easily along the rails. You can get a variety of accessories, like heavy duty wire dividers, to help in flow control and in separating product.