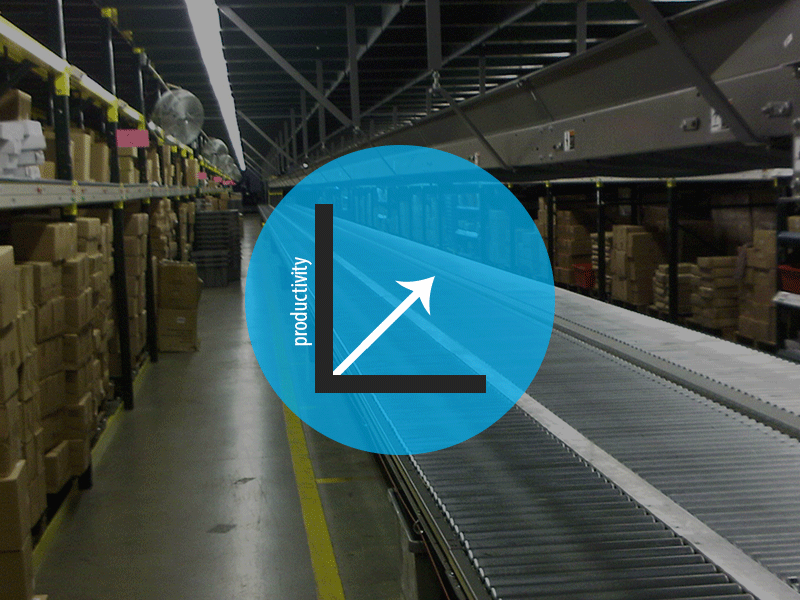 Conveyors and Warehouse Productivity
The right conveyor in your warehouse can make all the difference in achieving your warehouse productivity goals. Conveyors can move product around the warehouse faster than personnel can travel, and coupled with automated software and inventory control measures, can increase productivity by nearly 40 percent. They also contribute to a safe working environment by reducing the chance of injury.
Advantages
There are metrics to track the benefits of a properly designed and utilized conveyor system. These advantages improve warehouse efficiency while satisfying customer and employee expectations for accuracy and safety.
Reduce Picking Time. Conveyors can be configured to bring items to the pickers' station, allowing that individual to stay in one spot and pack instead of travelling the warehouse picking the order. The quicker the picker can pack, the more orders filled in a day.
Increase Throughput Rates. Conveyors can also take completed orders to the shipping station, moving orders in and out quickly. Add conveyors that move incoming product to their storage location to be added to inventory and you can a system of constant movement that saves time and money.
Minimize Costs. Through the improved accuracy and quicker pace, cost savings are realized. Accurate orders result in lower postage costs as returns are not exchanged. Customers are happy with the stellar service, leading to repeat business. Labor time is reduced through more efficient operations. Implement an inventory control system, like barcode scanners or advanced warehouse software, and save even more money through less loss of product.
Reduce Down Time
Once you are on track with the conveyor system in your warehouse, here are some things you can do to keep it running smoothly and eliminate lost time due to system failure:
Keep up on the preventative maintenance. Each system will come with a guide to hours of operation and other signals for scheduled maintenance. Daily inspections to check lubrication and look for worn out parts will also keep the conveyor system working as it should.
Learn how to troubleshoot. There are common issues that arise with the use of conveyors, such as sudden shutdowns, bottlenecks, load accumulations and more. Learn where the reset buttons are, what package configurations cause issues, and train employees in loading limitations. Redistributing loads can solve many problems, as well as checking air lines and cleaning the photo eye. Trying these simple measures before calling in a repair saves both time and money.
Make sure the conveyor is compatible with the load type. The shape of the load and its orientation on the conveyor influence effectiveness.
Consider elevation changes. Gravity feeds are both productivity enhancing and energy saving. If changes are necessary to the conveyor configuration, correctly select vertical and horizontal conveyors and integrate to take advantage of physics.
Upgrade when necessary. Product lines and packing styles may change for any number of reasons and the warehouse must keep up with them.  Technology is always advancing, providing warehouse managers with more ergonomically-friendly safety measures, working conditions, software and programming or increased system performance.