Wire decking is the most popular product that works with pallet rack systems. This solution is way stronger and more reliable than plywood or other support systems. It helps provide extra support, safety and other benefits to warehouse racks.
There are many styles, sizes and configurations of wire decks but they are all designed to fit the most common racking systems. Wire decks are very easy to install (they literally drop into place to fit the beams of the rack). Due to their wire mesh design, they allow high visibility through all the levels on the rack system.
In addition to providing  protection from falling inventory, wire decks help improve air circulation in your facility and prevents dust built-up on stored materials. They also help increase overhead sprinkler effectiveness, allowing water to fall through the mesh holes in case of fire – most local fire codes require wire decks on racks.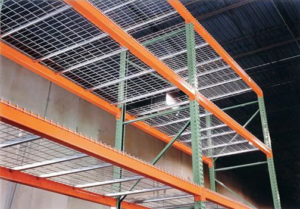 Wire decking also improves the versatility of your racks, allowing you to store your merchandise on more than just pallets. Boxes, bins and other products are commonly used to store on wire decking support.
Benefits of Wire Decking 
Offers extra support to your racking systems
More reliable than plywood or other support systems
Complies with strict fire legislation codes
Available in optional finishes like galvanized (for freezers and outdoors)
Strong support built for heavy loads
Custom sizes, styles and configurations that fits most common pallet rack systems
U-channel or flare channel for both step and box beams
Its mesh design increases visibility of your inventory from all levels
Without decking only full pallet loads can be stored
Easy to install (manually)
Improves rack storage versatility
For pricing information or a FREE Quote on Wire Decking call Atlantic Rack Warehouse Equipment at +1-305-887-5777 or email info@atlanticrackusa.com.