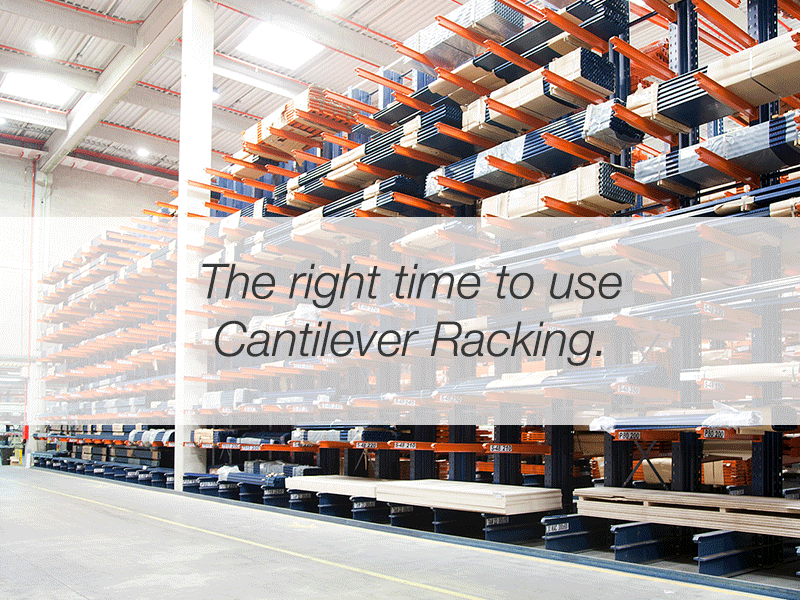 Cantilever racking is the perfect storage option for long, heavy or unusually sized loads. It allows you to make use of all three dimensions of the available storage space and is used to store large, bulky and odd-shaped loads with no structural impediments to the picking face of the shelf. While floor stacking is another option, it takes up a significant footprint in your warehouse or outdoor storage area. You can only stack it so high so before you know it, you have piles littering your storage space yet no way to take advantage of the height of your warehouse or facility. So when is the right time for cantilever racks?
Inventory Protection
Keeping product off the floor or ground protects it against damage, weatherization and other elements.  Storing product in correctly configured cantilever racking, or by using some of the accessories for such racking, keeps it secure while also making it easy to count, inventory and pick for orders.
Material Handling Accessibility
While pallets do not work well with cantilever racking, the product stored is often moved with forklifts and other material handling equipment. Instead of picking up loads from floor or ground level, the forklift can pick from a shelf, making it easier and quicker for the operator to work with the materials. This means a safer work environment and increased productivity, two chief concerns of warehouse managers.
Ease of Use
Cantilever racking is rather easy to install and reconfigure. With the absence of actual shelves, adjusting the height and angle of the arms is simple and quick to do. Such flexibility in the shelving allows you to store a wide variety of loads. The configuration reduces handling time for long loads, increasing the productivity of your warehouse staff through making the stock more accessible.  Additional arms can be purchased, varying the length, and allowing added storage possibilities for loads of all sizes and shapes.
Space Optimization
Instead of multiple large piles of materials, products or goods spread across a single dimension, cantilever racking allows you to stack long loads, such as timber, trusses, pipes or plywood.  The key comes to down to proper design before installation. While adjusting the height and arms of the racking is easy, moving the beams and bases are a bit more challenging.  Be sure to include wide operating aisles for forklifts, pallet jacks and other material handling equipment.
Cantilever racking can be assembled in many different formations, most commonly up against a wall for single-sided racking, or they can be placed back to back for double-sided racking. The space between the uprights can be adjusted to fit into corner, crook or cranny in your warehouse to make the most of all available space.
The right time to use cantilever racking is when you want to increase your storage capacity significantly while making it easier for you and your workforce to handle awkwardly sized materials. Cantilever racking provides your organization with the means and methods to increase productivity, safety and the work environment as you look to grow and build your business.