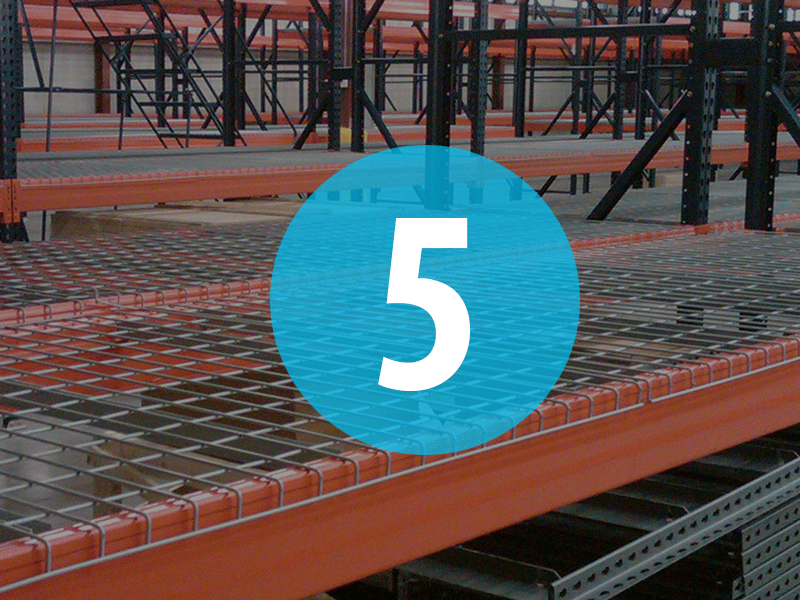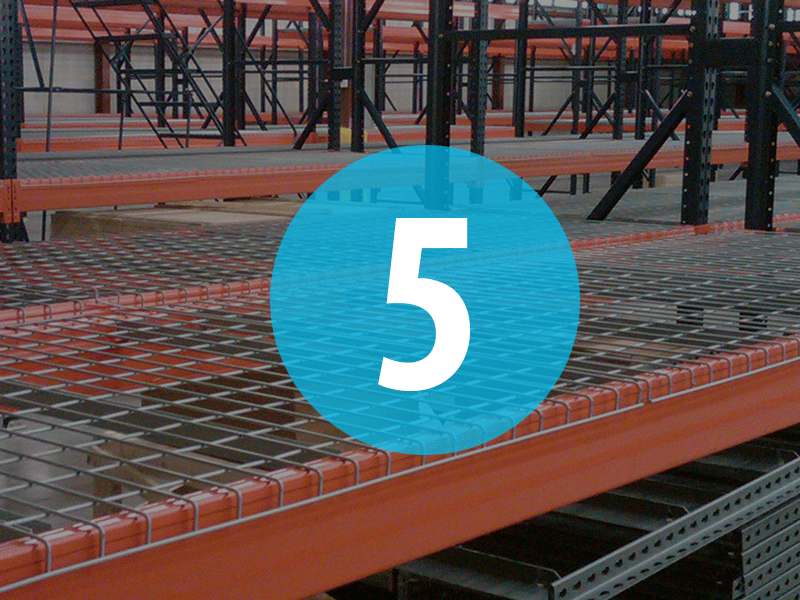 Five Things You Didn't Know About Wire Decking
Wire decking is a wire mesh grid designed to sit on pallet rack shelving and give users the ability to store open case items as well as split case products on shelves. This gives warehouse managers more flexibility in storage as well as ease of inventory and picking product for orders.  There are also accessories, such as wire baskets, dividers and wire mesh panels that offer more storage options. But wire decking has other benefits as well.
There are several design options of wire decking. Each provides a different benefit or feature to enhance warehouse uses.
The standard U-Channel fits common step beams.
The flared channel works best with box or structural beams.
The inside waterfall provides an unobstructed face for barcodes or labels.
Inverted channels prevent debris and dust from collecting in the channels.
The flat flush wire decking is designed for order picking and hand stacked loads.
Up-turned waterfall decking has a built-in backstop to keep product from being pushed too far or falling off the edge.
Yet here are five things about wire decking that you may not know:
Support. Wire decking also provides additional support for pallet shelving.  While most warehouse managers may add traditional pallet support bars to stabilize weak shelving, adding wire decking accomplishes the same goal with added benefits. The rigidity of the decking is improved, strengthening and increasing its weight capacity, with no negative effect on storage optimization or worker safety.
Lighting. Wire decking allows light to pass through the unused portion of the shelf. This makes warehouses brighter and by extension, safer.  There are fewer shadows to affect operation of material handling equipment. Better lighting has been proven to improve picking times and stocking efficiencies.  Making better use of existing lighting saves time and money.
Safety. Wire decking, because of improved lighting, can help reduce accidents but it also safer in case of fire. Traditional decking is made primarily of wood or plywood. These materials add fuel to a possible fire whereas the wire decking allows water to pass through it and right to the product or material on the shelves, saving product and infrastructure. As a matter of fact, it has proven so effective that many fire codes now require it for indoor pallet rack storage.
Energy Reduction. Just as light passes through wire decking, so does air. The improved air circulation results in more constant temperature in the warehouse. It reduces the need for the HVAC system to cycle on and off to maintain the environment, cutting energy costs.
Productivity. Working in a safe, well-lit and comfortable atmosphere allows workers to focus on the task at hand instead of creature comfort needs and wants. They get through their day better, with good morale and a focus on accuracy and timeliness. This affects all warehouse actions, from loading and unloading to inventory and shipping preparation.
Wire decking appears simple so it is hard to believe it has such a complex effect on a warehouse. The use of wire decking gives improved visibility to warehouse managers and workers as well as providing a barrier of safety and support against falling product. While pallet shelving is an absolute necessity, the additional flexibility provided by wire decking increases its value.
Install Wire Decks in your storage systems today