Scope
Founded 13 years ago in Miami where the home office remains, Brightstar is a global service provider to the wireless industry. The services provided in this instance run the gamut from warehousing and distribution for customers to such services as phone reprogramming, repackaging, and changes involving accessories. Noted for being the largest Hispanic-owned business in the U.S. (on any given day anywhere between 60 and 120 employees can be found in their Miami Operations Center), the organization spans the Americas, Asia and Europe and first carved its niche in the industry distributing mobile phones throughout Latin America's largest wireless device markets.
Opportunity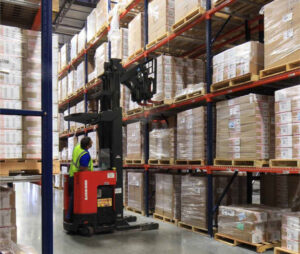 Brightstar awarded Atlantic Rack the contract for installation involving not only a move into its current warehouse, but the simultaneous gutting of the company's old one. Having moved seven times in the last eight years, Atlantic Rack itself was no stranger to relocating warehouse spaces. The wireless service provider's new warehouse allotted a portion of the facility for storage and needed to ensure the new rack it was going to install was effective, safe, and would process orders more efficiently than the old facility.
After outsourcing much of its materials storage to keep up with demand, Brightstar decided it had to reorganize and do it quickly. So quickly, in fact, that deadlines became the key sticking point in choosing the recipient of the contract. The speed at which the installation could be completed and the customer service provided in the process proved to be what landed Atlantic the job. Yet as Atlantic's sales lead Jessica Jimenez explained, it wasn't because her company offered the fastest timeframe. "Our competitors sometimes promise the customers something that they're not going to deliver," Jimenez said, adding that Atlantic secured the deal by assessing the job and giving Brightstar a more realistic completion timeframe than others grappling for the contract. Atlantic compelled Brightstar to call their competitor's bluff on their timeframe. And it worked.