Mecalux, is building an addition to the Porcelanosa Group logistic center in Villarreal, Castellon.
With 35 years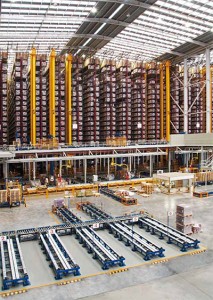 of experience and close to 5,000 people in almost 100 countries, Porcelanosa is a leader in kitchen, bath and architectural products. The new installations will provide Venis, one of the Group's eight companies, with one of the largest automatic warehouses in the world with a total storage capacity of 275,000 automatic pallets, the new construction will pair on 10 automatic bilateral stacker cranes with 20 shelving units, each 525 feet long. The 35,000 square foot warehouse extension was constructed 105 feet high and 913 feet long, roughly the size of a 10-story building, and has a storage capacity for 65,300 pallets.
The Venis warehouse is connected to the already existing Porcelanosa Group factory through a 2,625-foot-long underground tunnel. The pallets, prepared in the factory and weighing up to 3,500 pounds each, will be lowered by a freight elevator and placed on a conveyor belt that moves them to the end of the tunnel. From there,
The Venis facility, already one of the largest automated warehouse in the world, will add another 35,000 square feet of space. An additional 65,300 pallet storage capacity will be added to the preexisting 210,000 pallet capacity.
automatic lines take the merchandise to the front of the warehouse.
According to Mecalux Vice President Javier Carrillo, "We will build an automatic warehouse capable of moving merchandise quickly, both in intake and output. We estimate that our storage system will be able to move 474 pallets per hour."
To achieve a fast and efficient job, eight picking stations will be installed with pneumatic manipulators that, thanks to their effectors, allow the operator to retrieve the chosen merchandise easily. The rack has also been designed to allow great speed during intake and exit operation of the pallets.
Ten powerful bilateral stacker cranes that move at great speed through 6-foot-wide aisles and that will elevate the pallets at a speed of 160 feet per minute. Each stacker crane will have an independent freight elevator, which will allow for maintenance work as well as the ability to operate the crane manually.