Molinos Río de la Plata, a company with such a rich history, it parallels Argentina's rise to agricultural prominence over a century ago. Starting in 1902, Molinos evolved from a flour manufacturer to one of the leading South American food packagers in the industry, encompassing everything from artisan pasta to chicken empanadas. Today, it is a major player in soy processing and commercialization, commanding the oilseeds industry by producing sunflower and soybean cooking oils. With the massive success of the company, the need to diversify its production methods has meant finding innovative ways of product storage, none moreso than when the company ventured into the frozen food industry.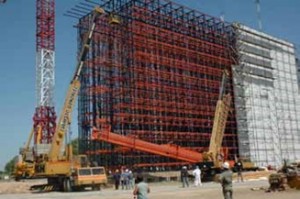 When Molinos acquired the frozen food company Granja del Sol in 1997, it positioned itself as a supplier of a diverse line of frozen food products with mass consumer appeal. However, the challenge of meeting the newfound demand for frozen food products required building a facility area that could withstand the demands of a mass logistics operation. Fortunately, Molinos found an ally in Mecalux that could help strengthen its vision as a global food supplier.
In August 2008, construction of the first automated warehouse for cold storage in Argentina history broke ground in Pilar (northwest of Buenos Aires). The eight month project was new territory for all parties involved. Considering the size and special nature of the project, Mecalux engineers had to adapt to the needs of Molinos and specifically develop an automated rack supported warehouse that could operate in conditions as low as minus 18 degrees Fahrenheit.  Under the supervision of project engineers Andres Domaica and Horacio Aguirre, the historic installation was built to enhance and expand the capacity of Molinos' cold storage areas to house the entire line of Granja de Sol frozen food products. The need to create an automated warehouse was impelled by the company's need to increase capacity in a cold storage environment. However, given that the freezing conditions are a hazard for a human workforce operating for extended periods of time, two single-mast MT3 stacker cranes were installed to alleviate human involvement.
What has made this project a landmark in Argentinian history according to Andrés Domaica, project engineer for the Granja de Sol facility, is that it encapsulates every aspect of warehouse operation. "The reliability of the installation, its receiving and supply performance for both the facility and clients, the security in stock control and the safekeeping provided to our personnel by not subjecting them to harsh work conditions," Domaica said, "are traits that makes this installation stand out from conventional ones."
For 30 years, Mecalux Argentina and Molinos Río de la Plata have been working side-by-side to accomplish their goals as leaders reaping the fruits of success on Argentinian soil. With 16 industrial plants and seven distribution centers reaching out to over 50 countries worldwide, this food industry giant is certainly busy feeding the region. If Argentina wants to continue calling itself "the breadbasket of the world," then Mecalux is proud to be the plate on which companies like Molinos are serving the meal.