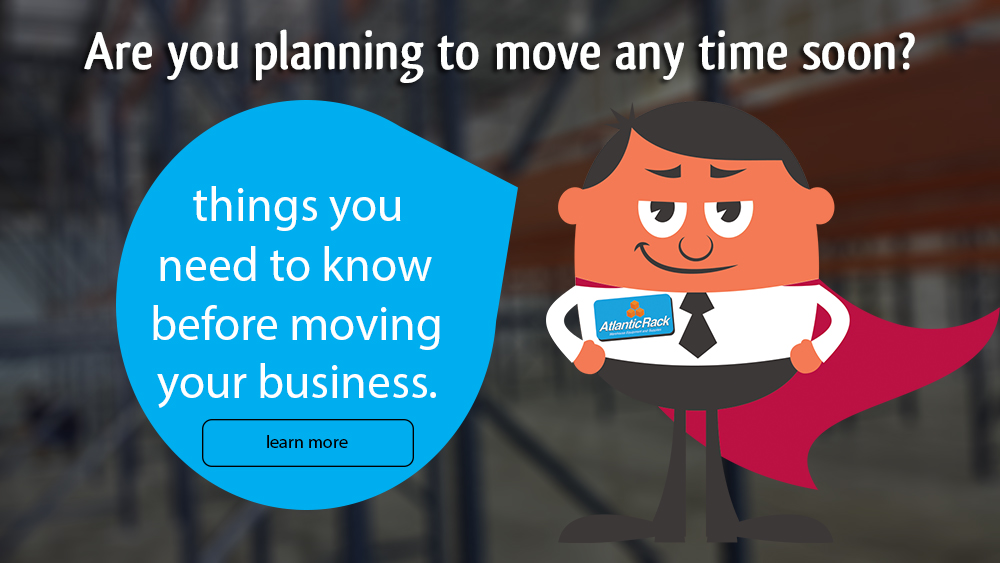 Are you in the process of moving to a new warehouse?
Here are a couple of things you need to know before taking any action.
The most important aspect of moving your business to a new warehouse it's planning. Write down a checklist of things you need to arrange before moving to your new location:
Dimension The Future Warehouse. Do you require more  or less pallet racks or shelving?
Quote pallet rack tear down, transportation and install in the new warehouse.
Evaluate the time you will need for transportation.
Define the moving strategy.
Ensure infrastructures and

PALLET RACK PERMITS

Prepare logistics units, schedule and address
Tear down Pallet Racks/shelving, transport, re install.
Dimension the future warehouse
Start by creating a layout of your warehouse. With this layout you will be able to determine if you need more or less Pallet Racks or shelving units to store your stock. Define internal and external circulation alleys.
Once you have a complete warehouse layout with pallet racks, sprinkle system, exit doors, etc. you can start processing a Pallet Rack permit with the city you are moving to. This Permit is essential for the entire moving process, without it the city can give you hefty fines and your company wont be able to store products in your pallet rack systems until you have one.
Quote pallet rack tear down, transportation and installation
It is very important to know how much of your current storage material you are going to need in your new warehouse. Do you have enough pallet racks/shelving to store more stock in your new warehouse? Do you require less material than you already have? (Atlantic Rack buys used warehouse equipment). Once you determine what material you are going to use in your new warehouse, contact an expert to give you a quote on pallet rack/shelving tear down, transportation to new location and installation. (Atlantic Rack can help you with this quote).
Evaluate the time you will need for transportation operations
Evaluate how much time you will need to realize the moving, balancing capacity and shortest time. This includes inventory and warehouse materials (pallet racks, shelving, forklifts, etc.)
Define the moving strategy
We recommend concentrating the moving on few days (ideally warehouse days off) when 100% of the active SKUs is available in the new warehouse.
Ensure Infrastructures and Pallet Rack Permits
Pallet Rack permits is probably one of the most important things you need to sort out before taking your plan to action. This permit can delay your move for days, weeks or even months. If you have pallet racking or heavy duty shelving and you are planning to move it to your new warehouse, the city WILL ask you for pallet rack permits in order for you company to use them. Avoid hefty penalties and delays let Atlantic Rack help you with your Pallet Rack Permits, we have helped hundreds of customers move without delay. Talk to one of our experts and we will guide you through all your moving process.
Prepare logistics units, schedule and address
Prepare logistics units
Make sure the articles you will have to move are compacted in the minimum logistics units possible.
Make sure the handling supports (palets…) will tolerate offloadings.
Warehouse Addresses
Make certain that the warehouse is created in the IT.Elaborate the new warehouse address map.
Allocate each SKU to its future storing address taking into account physical characteristics. Integrate the database in the IT.
Supply planning and inventory control
If needed and with the agreement of customers, organize anticipated deliveries before starting the moving. It is important to control this step in order not to Glossary Link stock out the warehouse SKUs.
In case no solution exists to visualize the inventory correctly in the Supply Planning IT during the moving, it is wise to prohibit the access to supply planning until the end of the project. It is in this case necessary to anticipate the supply planning and reroute previously the planned orders to one site or another according to needs.
To ensure the integrity of the inventory data during the moving , it is recommended to register the complete IT movements chain (picking, shipment, receiving, put away). At any moment you must be able to know what quantity of a SKU is in both sites.
Communicate and report
Follow up the project, planning and budget.
Communicate
to suppliers (or plants) and transportation companies to inform them of the delivery conditions during the moving
to clients and transportation companies to inform them on changes and how will be handled the orders during the moving phase
to the Financial department and Cost Control to inform them of inventory movements that will occur.